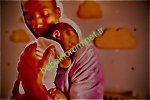 How Should Fathers Be Approached in Newborn Babies?
Fathers' moods in newborn babies are very sensitive. Just as mothers cannot prevent their feelings from reflecting at the highest level, so are fathers. Especially the psychology of first-time fathers will vary unbelievably. For single fathers, the situation is much different. While taking all the financial burden, the father will be the one who is dealing with the whole environment at the same time. For this reason, being aware of the situation of fathers during the most critical periods is very important for them and is a time period that should be supported.
Fathers who come to Earth with their babies in discomfort are caught between very problematic and difficult thoughts. Not being able to have their babies happily after all the hard work and time spent can put them in a difficult situation.
How Should Fathers Be Trained in Newborn Babies?
Baby development is a very challenging stage, and a superior performance is expected in every obstacle that will be encountered for him. If the duties of fathers in infant development are not taken into account, there will be an irresponsible and unconscious situation. However, the key to the success being shown is not only loving the babies, but also reinforcing the interest shown with the necessary information.
Constantly looking at it and trying to get an idea of what you can do. When faced with the problems to be experienced, a much more conscientious comfort can be attained. The strength of having done everything to do will help dads stand firm when babies get sick. Although the moods of fathers in newborn babies differ from person to person, they will be extremely gentle.