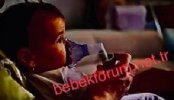 ASTHMA IN BABIES AND CHILDREN

WHAT IS ASTHMA?
Asthma is the name given to the disease that occurs as a result of the narrowing of the airways and the difficulty of breathing and causing breathing problems. Asthma is one of the life-long diseases in exacerbations. 300 million people in the world have asthma, regardless of age, including infants, children and middle-aged people. Various asthma medications are available to control asthma.
WHAT IS ALLERGIC ASTHMA? WHAT IS THE DIFFERENCE FROM ASTHMA?
Allergic asthma, which occurs especially in the spring and summer seasons, occurs as a result of the abnormal response of the nose and airways to small particles in the air. Allergic asthma, which causes sneezing and itching in the eyes, leads to the emergence of normal asthma if not controlled.
In allergic asthma;
environmental factors
Genetic
It is effective.
WHAT ARE THE SYMPTOMS OF ASTHMA? HOW DO I KNOW THAT MY CHILD HAS ASTHMA?
There are a few telltale signs that can help you tell if your child has asthma. If your child is constantly coughing, wheezing and often experiencing shortness of breath, then it is observed that he has asthma symptoms. It is very important for your child's health to see your doctor without losing time after breathing problems that are experienced frequently.
WHAT ARE THE GENERAL SYMPTOMS OF ASTHMA?
dry cough
Shortness of breath
Breathing with wheezing
Difficulty in breathing
Congestion in the chest
Making a sound while inhaling
These are the most common asthma symptoms.
ASTHMA RISK
For those who think about what kind of situations the child is at risk of developing asthma;
If there is a family member with asthma
If you have frequent contact with allergen substances during infancy
If severe respiratory diseases are experienced from the age of 2
If the mother consumes alcohol and cigarettes during pregnancy
Frequent smoking in the environment of the child after pregnancy
Insufficient and irregular feeding of the baby in the womb
It increases the risk of asthma in children. It has been determined that it is caused by the smoking of the parents of children with asthma. It is very important for health not to use tobacco in the presence of children.
WHAT PROBLEMS DO ASTHMA PATIENTS EXPERIENCE?
Asthma, which causes coughing, wheezing and chest tightness, prevents your children from running and playing various games in their daily life. In such cases, children have difficulty participating in physical education classes and activities involving sports.
Frequent awakenings may occur at night due to shortness of breath.
Bruises may occur on the lips and nails due to shortness of breath.
Difficulty in walking and shortness of breath while walking to destinations are one of the asthma problems.
These problems, which occur as a result of the symptoms, are among the problems that can have a great impact on your child's daily life. You can go to your doctor in a short time and start using asthma medications.
WHAT ARE THE FACTORS AFFECTING ASTHMA?
POWDERS:
Dust can be called the nightmare of asthma patients. While the dust entering the body through the nose causes shortness of breath, it is seen that asthma patients are very sensitive in this process.
It is necessary to keep the environment clean
Furniture should be chosen from leather and vinyl.
Instead of mattresses, duvets and cotton pillows, synthetic pillows such as orlon should be preferred.
Dirty and dusty environments should be avoided
Perfume should not be used.