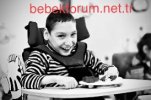 AUTISM IN CHILDREN

WHAT IS AUTISM?
Autism; It is the name given to neuro-developmental disorders that occur in childhood, which means pervasive developmental disorders. This disease can cause disruptions and regressions in the development that should show normal development in some children. Children with autism, who are overly sensitive to crowds and noise in the society, may carry some vital problems with them.
WHAT ARE AUTISM SYMPTOMS? CAN MY CHILD HAVE AUTISM?
Every child is at risk of having autism. Autism can be diagnosed at an early age, as conscious parents quickly notice the difference in their children.
They hesitate to interact with people. It is very difficult for children with autism to participate in conversations during conversations. Communication skills are therefore at the lowest level and unsuccessful.
they walk on tiptoe
They are also afraid of touching people's bodies and being touched. Physical contact is among the contacts that children with autism do not like.
Talking late, forgetting to speak, regression or stopping in speech can be observed. At the same time, children with autism often repeat the spoken words in speech.
They perform actions such as turning around themselves, going back and forth. Many children with autism do this when they are thinking about something or when they are worried.
They become overly addicted to their routine. Children with autism do not like disorder.
WHAT IS THE CAUSE OF AUTISM? WHY DOES AUTISM OCCUR?
The cause of autism has not been fully found yet. While it is seen that too many genes are responsible for the disease, at the same time, the disorder in the genes has been effective in the emergence of the disease.
WHAT ARE THE TYPES OF AUTISM?
Autism is one of the diseases that cannot be evaluated by expressing it in a single way. It is observed that genetic and environmental factors combine to form various types of autism. There may also be differences in the severity of autism, which may occur with different symptoms in each child.
The most common types of autism are;
ASPERGER SYNDROME
ATYPIC AUTISM
RETT SYNDROME
CHILDHOOD DISINTEGRATIVE DISORDER
WHAT IS ASPERGER SYNDROME?
Children with Asperger's syndrome are deficient in social interaction and skills. It does not cause the language and mental developments that occur in autism spectrum disorder in children with Asperger's syndrome who have various obsessions. There are no problems with vocabulary and repertoire. Balance disorders can be observed in children diagnosed with Asperger's syndrome.
Visual-perceptual impairment
balance problems
social disability
communication disorder
These are some of the negativities seen in Asperger's Syndrome.
ATYPIC AUTISM
Children with atypical autism have difficulty communicating and at the same time engage in repetitive speech. During communication, it was observed that they or the other person repeated what they said, or they were stuck on a single word. When the necessary educational opportunities are provided to the child in atypical autism, the negativities can be eliminated. Experts have stated that the only autism group that can respond in the treatment process among autism types is Atypical autism.
RETT SYNDROME
Rett syndrome, which can occur in girls, is a spectrum disorder. It can occur in children who show normal development in the first five months after birth.
WHAT ARE RETT SYMPTOMS SYMPTOMS?
Hand movements slow
Head growth slows
Loss of dexterity begins to occur
Obsessive hand gestures occur
Brain skills begin to regress in time
Decreases and regressions occur in language and vocabulary
In this group, which is the most dangerous among autism groups, it is necessary to be very sensitive to children.
CHILDHOOD DISINTEGRATIVE DISORDER
During a two-year period after birth, children with childhood disintegrative disorder show their normal development. With the onset of the disorder, previously acquired skills begin to regress and autism symptoms become evident. Childhood disintegrative disorder, which can cause severe mental retardation, can lead to high-level diseases.