Bebek Forum Üyesi
BF Member
Katılım

11 May 2020
Mesajlar

25
En iyi cevaplar

0
Puanları

3
Yaş

36
Konum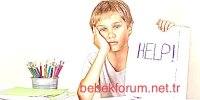 WHAT IS DYSLEXIA?
Dyslexia is a learning disability that causes problems in language skills, reading or writing, even though the intelligence level is normal or above normal. Dyslexia is generally manifested as a reading disorder in children. Dyslexia, which also affects attention and memory, has many symptoms and treatment methods in children.
Since children with dyslexia will have difficulties in reading and writing, they may lag behind their friends in school life.
HOW IS DYSLEXIA TREATED? WHAT CAN BE DONE TO CHILDREN WITH DYSLEXIA?
Dyslexia brings with it many negative conditions in children. Children who are deficient in reading and writing may experience a lack of self-confidence because they will be more unsuccessful than their friends. Depending on this situation, the emergence of psychological problems is inevitable. Children with dyslexia, who are more sensitive to their environment, may experience various problems when they do not see the same sensitivity. Some of these are problems such as asociality, exclusion, exclusion, and ridicule.
THOSE WHO HAVE DYSLEXIC CHILDREN
must be patient
Must have understanding
Must have motivational speeches
Should be supportive
When we look at the diseases, many diseases demand responsibilities within the same framework. Understanding is the need of every special child.
It is very important for those who have children with dyslexia to be patient in this process, to show understanding in response to their children's failure to learn, and to be more supportive in the learning process.
WHAT ARE THE SYMPTOMS OF DYSLEXIA?
their memory is not strong
They can't remember the words
Recognizing sounds is very difficult for dyslexic patients.
They have difficulty remembering what is read, such a problem arises as not being able to learn to read and write in school life.
They read words backwards
There are dyslexic patients who write letters backwards while writing.
They have attention difficulties
Their movements are slow
HOW IS DYSLEXIA TREATED?
Dyslexia is one of the diseases that can be treated. The Department of Child and Mental Health and Diseases deals with dyslexia. There is no clear method for the treatment of reading disorder, but the treatment of other disorders can be applied. Attention deficit hyperactivity disorder due to dyslexia can be eliminated. Such problems can be treated without medication.
Experts, who stated that reading and learning disorders decrease with age, also reported that they will not completely improve, but will not become a problem. Dyslexia, which will not affect the lives of children supported with special education, can be reduced to a minimum with early diagnosis.
DYSLEXIA MUST BE SUPPORTED WITH SPECIAL EDUCATION
There are several ways to provide support for children with dyslexia. Special educational tools used in the treatment of dyslexia are quite effective with the disease.
Games
Educational institutions
educational materials
Special curricula
Some of the materials and applications that help to minimize the dyslexia level of children.
CAN A TEST BE DONE FOR THE DIAGNOSIS OF DYSLEXIA?
Doctors use two types of tests to find out if your child has dyslexia. The first of these is the reading disorder test to test whether there is a reading-based disorder. The second test is the learning disorder test to find out if your child has a learning disorder.
If you suspect that your child has a reading, perception or learning disorder and you think he or she has dyslexia symptoms, it will be extremely beneficial to seek help from a specialist in the field without wasting time. Like any disease, dyslexia can be minimized through special training and treatments when diagnosed early. At the same time, early diagnosis is very important in dyslexia so that you do not have high expectations for your child and cause disorders in your child's psychology.
Ensuring that children with dyslexia receive psychological support, which child psychiatrists are also sensitive to, will be beneficial so that they do not experience asociality and introversion in this process. Conscious parents should make sure that their children are happy by ensuring that their children feel good during the illness and do not see themselves as inadequate.