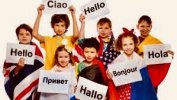 FOREIGN LANGUAGE EDUCATION FOR CHILDREN
Language education in children is one of the types of education that should be given from an early age. Foreign language education affects children positively in many areas of life. Foreign language education, which will affect the work and school life in the future and help open new doors, will be very beneficial when given by the right people.
HOW SHOULD FOREIGN LANGUAGE EDUCATION BE?
Many parents want their children to know different languages, travel to different countries, and achieve good positions in the business sector. In such cases, every family should provide their children with the necessary language education support so that they can get what they want.
Foreign language education,
your child's age
language level
Should be appropriate. What kind of materials the teacher who will give language education uses against your child and the way of teaching he follows are very important. The learning capacity of the students cannot be determined exactly because the level-appropriate education is not given in some private lessons and group lessons. At the same time, the only reason for some failures is the application of the wrong teaching method on the student.
WHAT IS THE IMPORTANCE OF FOREIGN LANGUAGE EDUCATION IN CHILDREN?
Children learning a foreign language will have an advantage over their competitors in their education and business life in the future, no matter which language they receive education in. Thanks to language education, many students can find a job while they are still at school, and they can direct their lives by meeting people from various sectors.
AT WHAT AGE SHOULD FOREIGN LANGUAGE EDUCATION BE DELIVERED?
Regardless of the language, foreign language education can be given to children when they first learn their mother tongue. Many parents pay attention to the language education and knowledge of many people who are in the same environment with the child, as well as private teachers, employees in their homes.
WHAT ARE THE BENEFITS OF A FOREIGN LANGUAGE FOR CHILDREN?
They have different perspectives
Increases in self-confidence
Change and rise in mathematical intelligence
Have a broad understanding of culture
An increase in learning rates is observed
They do not have difficulty speaking
They do not have difficulty while being in different environments
Success in education
Language education in children is one of the trainings that children of all ages should receive. In this process, you can open different doors of success in a short time with the right language education support for your child.
WHAT CONTRIBUTIONS OF A FOREIGN LANGUAGE TO CHILDREN'S DEVELOPMENT?
According to studies conducted by experts, it has been observed that children who speak two or more languages have less attention and focus problems than children who speak only one language. It is one of the inevitable information that languages, which contribute a lot to memory development, provide support to children in multitasking. In addition, children who have a command of different languages are also active, since different parts of the brain and more than one part of the brain are active.
Extra features such as information processing, memory expansion, and increase in vocabulary also show themselves with language learning. It has also been proven that knowing more than one language causes an increase in reading comprehension and learning speed. With this feature, which is ideal for academic success, the importance of language education is an undeniable fact.
FOREIGN LANGUAGE ALSO PROVIDES THE SOCIALIZATION OF CHILDREN WITH LOW COMMUNICATION SKILLS
Language is the most important factor in interpersonal communication. It has been observed that many children who have low communication skills with language, which is the best way to establish bonds with different people, do not experience tension in their communication with different nationalities. Providing an effective communication option to children experiencing asociality and showing the existence of healthy communication environments will ensure socialization in your child.
Families who want to show their children a foreign language education can start working at home from a young age.
fairy tales
Stories
Books
Magazines
Sound toys
Cartoons
You can start language education in your child.