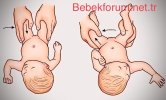 Hip Dislocation
Hip dysplasia, another name for hip dislocation, is a condition that occurs as a result of the hip joint not completing its development properly in infants and children. The laxity of the hip joint is known as the main cause of hip dislocations.
In hip dislocation, disorders in hip development occur due to the incorrect positioning of the thigh bone, called the femoral head. Hip dislocation, which occurs frequently in self-born babies, is one of the diseases that cause musculoskeletal system problems. With the help of early diagnosis, permanent diseases that may occur as a result of hip dislocation can be prevented and the emergence of possible diseases in your child in the future is prevented. As a result of late treatment, there may be hip problems that will continue to develop with your child for life.
WHAT ARE HIP DISPLACEMENT RISK FACTORS?
Hip dislocation is more common in girls than boys. In addition, those with the highest risk of hip dislocation;
Children born as a result of first pregnancy
twin or triplet pregnancies
Frequent incidence of hip dislocation in the family
low amniotic fluid
Frequent swaddling
type of birth
It is among the factors that carry the risk of hip dislocation in infants.
WHAT ARE THE SYMPTOMS OF HIP DISPLACEMENT?
Symptoms of hip dislocation in children are visible. When you see the symptoms of hip dislocation in your child, you can learn the path to follow by consulting your doctor.
The difference in length between the two legs
trouble walking
sitting problems
difficulty crawling
Retardation in walking functions
Clicking sounds, pain in hip joint movements
It shows itself among the symptoms of hip dislocation. In many children, untreated hip dislocations can cause permanent disorders and various complaints due to disorders in the future.
Walking with a limp is one of the disorders that occur when hip dislocation is not treated.
hip pain
osteoarthritis
Limitations in joint movements.
WHAT IS DEVELOPMENTAL HIP DISPLACEMENT?
Developmental hip dislocation (GHL) is one of the diseases caused by developmental problems in the hip joints. This disease, which occurs at birth, manifests itself with laxity in the hip joints. In this case, the disease will grow as the baby grows, so early diagnosis is very important.
There is no need to worry if your child develops hip dislocation. With early diagnosis and correct treatment, it is possible to eliminate other problems caused by hip dislocation.
HOW IS HIP DISPLACEMENT TREATED?
Hip dislocation treatment, which is diagnosed in the early period, can be performed without surgery. In the first six months, hip dislocation treatment can be performed with simple treatment methods. In babies older than 6 months, plaster application should be done together with the surgical procedure. In the first six months of treatment, approximately 100% improvement is achieved in hip dislocation.
If no improvement is observed in the treatment applied after 6 months, the joint should be brought to a suitable position with general anesthesia. This process is called the reduction process in the medical field. Treatment is provided by placing the ball of the femur in the hip.
A 6-week plaster period is required for the hip to be fully seated. After this plaster treatment, new treatment methods can be applied depending on the improvement in the hip. The cause of the discomfort may be congenital or due to syndromes.
Hip dislocation is one of the diseases that can cause serious discomfort in babies. It is necessary to be very careful and make good observations in newborns. The treatment of hip dislocation disease, which is diagnosed early thanks to conscious parents, can be realized to a large extent. Many people need to be made aware of this issue and taught that it can happen to any baby. If you suspect a hip dislocation in your baby, you can have hip dislocation detection via hip ultrasound. In such cases, early diagnosis is very important for your baby's health and treatment process.