Bebek Forum Üyesi
BF Member
Katılım

11 May 2020
Mesajlar

60
En iyi cevaplar

0
Puanları

18
Yaş

36
Konum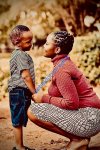 HOW CAN'T A CHILD BE RAISED?
Being a good parent is presented only as families that provide financial resources and try to raise their children in the best places. It doesn't matter how much time you spend with your child if you buy the latest model phones for your child, if you teach them in private schools, and most importantly, if you are opening the doors of endless shopping with a credit card in the country you live in. the country you live in. your pocket. Many families are not interested in the mood of the children they help give birth to, how their character is formed, and what features their social identity might have. Children cannot be raised in these conditions.
When the situation is considered financially, it cannot be said that there is corruption only in well-to-do families. There are many families whose situation is not good and irresponsible towards their children. In the life of every individual who is brought into the world, long or short-term responsibilities are in the parents. It is a proven fact that children are prone to crime in families where indifference and neglect dominate. It is a very wrong behavior to give birth to children who will not be with them during their growing up and for whom the necessary psychological support will not be provided, and in such cases, children cannot be raised.
It would not be a correct attitude to classify mistakes based on interest only. There are behaviors and stereotypes that need to be instilled in children, and if you do not provide them, you are among the examples of how not to raise children.
THOUGHTS AND BEHAVIORS THAT SHOULD NOT BE INSURANCE TO CHILDREN
sexism
homophobia
Racism
hostility to feminism
animal hatred
There are families who present examples of how not to raise children by instilling such thoughts in children.
Every individual grown should be brought up with certain controls and healthy thoughts. At your own convenience and in your thoughts, many children who have been brought up full of mistakes take their place in society as potential criminals. In such cases, getting help from a conscious person would be the best option.
'HOMOPHOBIC' CHILD CANNOT BE RAISED:
Homophobia is one of the thoughts that have caused the death of many individuals in the world. Hundreds of thousands of people who have been brought up as homophobic live by seeing it as their right to shape other lives according to their wishes and to harm them when their wishes are not fulfilled. Bringing a child into the world is one of the worst acts that families can do to them, who are not aware of the fact that homophobia, which is among the worst thoughts you can instill in your child, is a very serious thought.
Children who do not respect themselves, who think that other lives can be shaped according to their wishes, cannot be raised when they see violence as their right.
'SEXISTIC' CHILD CANNOT BE RAISED:
Sexism: the view that one sex is superior to the other. Dozens of people have lost their lives in the war against sex enemies, which is present in many atrophied families and still is today. Sexist children cannot be raised.
When families decide to bring a child into the world, they must be aware of the two genders their child may have. Your child will be a boy or a girl, but unfortunately, this situation has not been learned in families where darkened thoughts have prevailed for centuries.
Regardless of gender, the person you brought into the world should be raised with the awareness that they have equal rights with the opposite sex. Families who cannot accept this situation, will behave badly to their children and cause them to feel inadequate should not consider having children as their right.
In the following periods, in children who have been vaccinated with sexist thoughts; violence, taking part in femicide, bad behavior will take place. In today's war against humanity, families have to learn how not to raise children.
Families with such thoughts should receive psychological support and should not take such a place in society.
THE ENEMY OF FEMINISM CANNOT BE RAISED:
Feminism is a way of thinking that advocates equality in the rights of women and men. Children who think that men and women do not have equal rights cannot be raised.