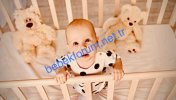 HOW SHOULD THE BABY BED BE SELECTED?
Parents try to choose their baby's bedding appropriately and carefully for their health and development. While the right sleep contributes to the development of the baby, it also has an effect on the formation of its characteristic features. Choosing the right bed, which has an effect on the mood of many babies during the day, is very important.
An interrupted sleep at night causes your baby to be aggressive during the day and have a restless day. The calm nature of babies who have a good sleep also shows that the necessary sleep efficiency is provided.
There are two points to be considered in the baby bed:
Bed comfort
Adapting to the baby's body structure
Since the baby has grown and has to sleep alone in his crib, he should have a bed where he can move comfortably. Many babies have a desire to move in their sleep and need a soft mattress to achieve this easily. The bed depth should be 8 cm on average. Since it is necessary to take precautions against bacteria during infancy, it is recommended to choose an antibacterial mattress during this period. In the following periods, you can change your bed choice with the development of the baby. 80*130 is one of the ideal dimensions for an average baby bed. It is an opinion advocated by many people that babies cannot be comfortable in very wide or very narrow beds.
WHAT ARE THE BABY BED OPTIONS?
Many baby beds are available for mothers to choose from. The bed types you can choose the right one for your baby are as follows:
Sponge bed
fiber bed
Spring mattress
latex mattress
visco bed
WHAT ARE THE FEATURES OF THE BED?

SPONGE BED :
If it is produced from a good sponge due to its structure, it supports the baby's body quite well.
FIBER BED:
It is one of the types of beds that parents with allergies can prefer, but it is not among the beds that support the body of babies.
SPRING BEARINGS:
Spring mattresses are among the mattresses that should be preferred not for babies, but rather for us adults. Choosing this bed model for your baby is entirely up to you.
LATEX BEARINGS:
Latex mattress, which is a special type of mattress that has started to make its name known recently, is among the plant-derived mattresses. Latex with milky sap, which is found in some plants such as rubber, is processed into a usable material for bedding. The latex mattress, which has a higher market price compared to other mattresses, is among the mattresses that attract the attention of many mothers with its antibacterial feature.
However, infants with conditions such as asthma and atopic dermatitis may be sensitive to latex. For such cases, you need to consult your allergy doctor.
VISCO BED
Visco mattress is popularly called memory mattress. It takes the shape of your baby's body and provides him with an equal body support. Its use before the age of three is not recommended by experts as it provides insufficient support to the spinal cord. After your baby is three years old, you can optionally choose a visco mattress.
The fact that baby beds are uncomfortable and that they do not provide the necessary support for the baby's body are among the major problems. You should choose these mattresses, which may cause some discomfort and allergic conditions, after a good research, not only for their appearance, but also to research whether they will adapt to your baby. It is necessary to be parents who are aware that many babies have physiological disorders due to the wrong bed selection.
After choosing the right bed, you can use the same bed for a long time and ensure that your baby has a peaceful and uninterrupted sleep during the development process. Babies who have quality sleep are more calm and peaceful than other babies.