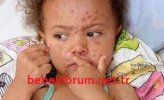 WHAT IS MEASLES?
Measles is an infectious disease with rash caused by a virus in children. It is a contagious infection that is transmitted from person to person through the air. The course of the disease is 10-14 days. The most contagious period is two days before the onset of symptoms and 4 days after the rash.
WHAT ARE THE SYMPTOMS OF MEASLES IN CHILDREN?
slight fever
runny nose
redness in the eyes
dry cough
White spots that appear on the gums next to the upper molars
4-8. high fever between days
Debris
Weakness
Throat ache
Tiredness
Sensitivity to light in the eyes
Eye inflammation may also occur.
WHAT DISEASES CAN CAUSE MEASLES IN CHILDREN?
pneumonia
Diarrhea
Vomiting
febrile seizures
Laryngitis
eye infection
middle ear infection
to brain inflammation
Reactivation of tuberculosis infection.
HOW TO TREAT MEASLES IN CHILDREN?
Bed rest is required until the fever subsides.
The patient should be isolated for 10 days
Pain relievers and antipyretics can be used.
Antibiotic therapy should not be given unless complications develop due to bacteria.
WAYS TO PROTECT CHILDREN FROM MEASLES
Live virus vaccine should be administered to children aged 15 months.
After 6 months, another booster dose is given to children with impaired immune system.
All children older than 9 months can be vaccinated during epidemic periods.
A booster vaccine can be given after 15 months of age in children.
WHAT ARE THE CONDITIONS TO APPLY TO THE DOCTOR IN CASE OF MEASURES IN CHILDREN?
If your child has symptoms of measles, he or she may also experience difficulty in hearing and earache. As a result, otitis media may develop.
If your child has symptoms of measles and at the same time tends to sleep constantly, restless and nervous, as a result of this, brain inflammation may have developed.
If your child has symptoms of measles and at the same time is coughing up and producing phlegm, he may have pneumonia as a result.
HOW IS MEASLES TRANSMITTED IN CHILDREN?
When someone with measles sneezes next to you
When someone with measles coughs next to you.
On the same paths as people with measles
HOW MANY DAYS DOES MEANS LAST IN CHILDREN?
Measles lasts on average 4-5 days. A dry dry week is up to 10 days.
IS MEASURE IN CHILDREN A SERIOUS DISEASE?
A girl to protect the health of measles in children. There may even be children in 1 use in life.
WHAT ARE THE RISKS OF MEasles IN CHILDREN?
Lack of vitamin A: the reason for not consuming foods containing vitamins is insufficient.
Speaking of the prevalence of international travel: catching measles is risky.
Not getting vaccinated: The biggest risk factor is being unvaccinated. Measles vaccination is a must.
HOW IS MEANS DIAGNOSED IN CHILDREN?
entered with a medical examination. Reports of measles are diagnosed from skin eruptions and those that can erupt inside the mouth. Measles education is clarified with a blood test.
MEASLES VACCINE IN PREGNANCY?
Measles vaccination is not available at birth. However, breastfeeding mothers can get the measles vaccine.
CAN CHILDREN WITH MEASLES GO AGAIN?
They don't get measles because they earn more on measles calculations.
Because of anything too much from measles, close contact with large numbers of people from a small family should be avoided.
The measles vaccine in children should definitely be angered. The risk of being seen from measles with measles vaccine is higher and if it can be examined, the disease is milder than the disease.
These are things that are important to consider well.