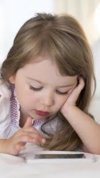 PHONE USE IN CHILDREN
As we are in the age of technology, the age of the phone has started to decrease considerably.
Parents, on the other hand, made an effort to manage their children's phone use.
However, children have difficulty in drawing the boundaries in the telephone relationship.
Thanks to phones, we can easily connect to the internet and access the virtual world.
SHOULD WE GET PHONES TO THE CHILDREN?
It is not right to take phone calls to children. The phone offers children an uncontrolled internet environment, which poses a danger to children.
If parents have to communicate with their child, they can allow the child to use a phone that they control.
Children should not be exposed to screens until the age of 3 years. Then 10-15 minutes should be allowed. A 6-year-old child may be allowed to stare at the screen for 30 minutes.
IF YOU WILL RECEIVE PHONES TO CHILDREN, YOU MUST RULE THE FOLLOWING
• Tell them you own the phone and you can get it back anytime
• Say you can look at the phone for a maximum of 2 hours
• Tell the phone not to set a password
• Tell him you will be friends on his social media account
All these rules are steps you can take to protect your child.
WHY DO FAMILIES BUY PHONES TO CHILDREN?
• So that the child can study his lessons from the phone.
• Because the child is constantly asking for the phone of the parents.
• For the child to linger alone
• Because all the child's friends have taken it
• My child wants it so I can't break it
However, it should not be forgotten that it will not be right to buy a phone for young children unless they are in a very difficult situation. The child may not be able to use the internet and the phone correctly. For this reason, in order to protect your children, phones should not be bought to young children.
Instead of getting a phone call to your child, try to get to know him and try to find out what he enjoys. Spend time with him.
Also, do not forget that you are an example to your children on the phone, as always. If you never get up from the phone, your child will not get up either.
If your child has a phone, be sure to track the apps and social media usage.
One of the most common problems in children with a phone is phone addiction. First of all, parents want to spend more time on the phone as they grow up, as a result of the wrong example of parents never leaving the phone in their hands.
Unfortunately, the phone negatively affects the health of children. It impairs the child's mental and emotional development, as well as negatively affects their eye health and may have negative consequences on children due to the rays it emits.
When children cry, don't put a phone in their hands to silence them. Instead, set aside time for your children to play games and activities with them.
If the parents do not have enough time, they can think of their play sisters to take care of the children. The game sisters take care of the children one-on-one and play games with them all day long. Thus, children will be busy all day long and will not need a phone.
WHAT ARE THE REASONS FOR CHILDREN TO NEED TELEPHONE?
• Not having siblings
• Working parents
• Parents being separated
• Having no friends
The most accurate age to buy a phone for children is 13-14 years old. Of course, children of this age should also get a phone to communicate with the family. Also, you don't necessarily have to buy a smart phone, you can just get a phone that can make calls and communicate with you.
Devices such as telephones also cause serious problems in the waist and neck of children. In fact, the phones you receive so that your child does not cry, do not want to play with you when you are tired from work, have friends, affect children badly in every way.
A better way to prevent your child from using the phone at first is to have him/her treated after he/she is sick.
Also, cell phones emit a lot of microwaves. This situation poses a very serious threat to both you and your children, so you should take care not to keep cell phones in the room where you sleep, especially at night.