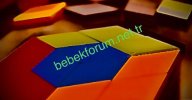 Piaget defines play as a spontaneous playful act, done for pleasure, without regulation. Piaget also sees play as part of cognitive development. In line with this definition, games cannot be considered as spending time and entertainment. For children, play is an important element that affects their physical and cognitive development, provided that sufficient environment and material opportunities are provided.
The Effect of Play on Children
Games make an important contribution to the formation of personality by enabling children to develop muscle, release energy, communicate correctly and cooperate with their environment. Many skills such as obeying the rules, fulfilling the given task, playing in harmony with friends, expressing oneself, establishing relationships between events, and making decisions can be gained and developed through games.
What Should Be Considered While Preparing Educational Toys?
When the child plays, it is necessary to contribute to his personality and spiritual education while having a pleasant time. Therefore, the chosen toy; should be appropriate for the age and developmental level of the child. Educational toys should be prepared with activities from simple to complex. It should contain toys to be played individually or in groups, and it should be aimed to develop creative thinking skills in children.
Game instructions should be easy to understand and the application times should be appropriate for the development level of the child. Children should develop their thinking skills along with their manual dexterity. In addition, toys should be durable and easy to clean. Toys with a tendency towards violence should definitely not be preferred in babies or children. In this regard, the subconscious of children may show a tendency and tendency during the game. After such acts of violence are mentioned in the television or cartoons he/she watches, the brain will accept such toys as normal and it will begin to normalize for your children. This is certainly true when babies reach the age of play.