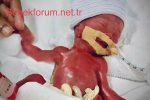 PREMATURE BABY
WHAT IS PREMATURE?
Normal birth is carried out within 38 and 42 weeks. Babies born before 37 weeks are called premature babies. Premature babies weigh much less than babies born at normal time. Health problems may occur in premature babies because their organ development is not completed.
WHAT ARE THE CHARACTERISTICS OF PREMATURE BABIES?
Immune systems are very weak
Organs not fully developed
They are not ready during breastfeeding
Their skin is sensitive
they get very cold.
HOW IS THE DEGREE OF PREMATURE?
Extremely premature babies are born between 25-28 weeks. The organ development of these babies is incomplete. It is necessary to be very careful about these babies, who have a very high probability of losing their life. They stay in the hospital for a long time after birth.
Premature babies born very prematurely were born between 28-32 weeks.
Medium preterm babies are 32-34. It is born in weeks.
Late premature babies are babies born at the last level. Babies who are born prematurely while there is little time left are called late premature babies.
WHAT ARE THE PROBLEMS OCCURING IN BABIES WITH PREMIUM?
respiratory tract problem
Nutritional disorders
Cerebral palsy
hearing problems
organ failure
vision problems
hearing problems
There are consequences that can lead to hereditary diseases such as Premature birth is one of the health problems that should never be underestimated, but can happen to any child.
WHAT ARE THE REASONS THAT MAY CAUSE PREMATURE DELIVERY? WHY PREMATURE?
Second or third pregnancies in women who have given birth before are at risk for premature babies.
Less than six months between two pregnancies can increase the risk of premature birth.
Multiple pregnancies are at risk of premature
Diabetes patients may be born prematurely.
Premature birth can occur as a result of physical trauma
extreme stress
Blood pressure
pregnancy poisoning
In some cases, the mother should be more sensitive to these factors that cause the birth of premature babies.
WHAT ARE THE CHARACTERISTICS OF PREMATURE BABIES?
Their skin is transparent
Veins are prominent
Cannot control their body temperature
Muscular and nervous systems are not developed
There is difficulty in breathing
Sucking reflexes are not developed
Most of these features seen in premature babies are of vital importance in babies. Since children who do not develop a sucking reflex will have difficulty in feeding, it is necessary to deliver breast milk or other foods to their stomachs via a tube.
HOW IS THE DEVELOPMENT PROCESS IN PREMATURE BABIES?
Premature babies have a different developmental process than babies born at normal times. This developmental process can also cause differences in premature babies.
At 8 weeks, it is possible for your premature baby to be able to hold his head upright. Premature babies are able to move their arms and legs from the 8th week. They can also follow moving objects with their eyes.
At 16 weeks, your baby can reach, touch and laugh at objects. It can also become more sensitive to its environment.
Week 24: Your baby, who can sit without support, will now be more sensitive to his name. It begins to make noise, reacts to strangers.
32. Week: Your premature baby can start to stand and crawl with your support from the 32nd week. The first speaking efforts also occur from the 32nd week.
After 40 weeks, your baby can start talking, being alone and taking steps. It is important to be careful with your baby during this period and to keep it under surveillance even when you leave it alone.
Premature births are one of the situations that should never be ignored. There is a risk of preterm birth and premature baby in many births. It is very important to follow the development well in premature babies. It is very important to be sensitive to your baby as directed by your doctor.