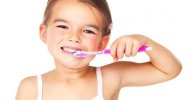 THE IMPORTANCE OF TOOTH BRUSHING IN CHILDREN
Most of the time, care is not taken to brush children's milk teeth because they will fall out anyway.
But this is very wrong. Because milk teeth play a role in children's speech and chewing food.
You can massage the gums before your child's teeth erupt.
Children with cavities in their primary teeth are likely to have cavities in their future teeth as well.
Children should be regularly taken to dental check-ups and dental treatments should be done.
Starting at the age of 2-2.5, children should be accustomed to brushing their teeth.
The biggest example of brushing teeth for children is again parents.
HOW TO HAVE THE RIGHT TOOTH BRUSH FOR CHILDREN?
• Flexible handle
• Made of soft bristles
• Brush tips are rounded
Toothbrushes should be changed every 3 months.
HOW MANY TIMES SHOULD CHILDREN BRUSH TEETH PER DAY?
Teeth should be brushed twice a day, after breakfast and before going to bed at night.
Children should be taught to brush their teeth when they are younger. This habit will continue in the future of children.
The toothpaste to be put on the toothbrush should be the size of a chickpea.
If you teach children to brush their teeth as a game, this process will become fun for them and they will brush their teeth voluntarily.
WHAT ARE THE PROBLEMS IF THE TEETH ARE NOT BRUSHED?
• Tooth decay
• Gum diseases
• Tooth discoloration
While teaching children to brush their teeth, we should teach them to brush their teeth correctly. Because brushing wrong teeth will not work.
HOW SHOULD CHILDREN BE CORRECT TOothbrushing?
Squeeze the size of a chickpea into the toothpaste without wetting the toothbrush, and brush it for at least 2-3 minutes with back and forth and circular movements.
THINGS TO CONSIDER FOR THE ORAL AND DENTAL HEALTH OF CHILDREN
• Do not feed children sugary foods before going to bed at night
• After children drink milk from a bottle, clean the mouth with water
• Do not dip children's pacifiers in sugar and honey.
• Children should drink water after eating
• Protective fluoride application should be made to children
• Too much toothpaste should not be used.
• After a certain age, children should be discouraged from feeding bottles.
Children have 20 milk teeth. Milk teeth contain more organic matter than normal teeth. Therefore, it rots faster.
ORAL AND DENTAL PROBLEMS IN CHILDREN
• Thumb sucking
• teeth grinding
• Pacifier
• Baby bottle decay
WHAT IS BOTTLE ROOT IN CHILDREN?
It creates brown spots on the teeth of children. It is caused by children sucking from a bottle.
The following can be done to protect children from bottle rot:
• After the child drinks milk, drink water
• Do not put honey or sugar in the bottle.
• Ensure that children do not sleep with a bottle while they are sleeping
If your child experiences toothache, bitten cheek, trauma to the teeth, it is useful to take him to a dentist immediately.
WHAT CAN BE DONE TO PREVENT CARIES IN CHILDREN?
• Teeth should be brushed twice a day.
• Sugar consumption should be reduced
• Oral examination should be done
• Fissure sealant application should be made
Early loss of milk teeth in children can also disrupt the alignment of permanent teeth. Therefore, it is necessary to take good care of children's milk teeth.
WHAT SHOULD CHILDREN DO TO MAKE THEIR DENTAL HEALTHY?
• Must eat fresh fruits and vegetables
• Must drink plenty of water
• Should not consume sugary foods too much
• Stay away from acidic drinks
• Stay away from products such as chips
Caries can be prevented in children with regular dental check-ups, protective practices and regular tooth brushing.
In addition, early loss of milk teeth will affect children negatively. It can cause problems such as speech disorders. For this reason, we should teach children to brush their teeth at a young age by making it the most fun, and give them the right brushing habits. Children who take good care of their milk teeth and make a habit of brushing their teeth regularly will take good care of them when their permanent teeth come out, and they will minimize the formation of caries by brushing regularly and paying attention to their oral health.