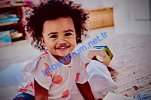 Welcome to a new era in your child's life.

Mental Combinations Phase
Get ready to step into a new period for your baby with the 18th month. Jean Piaget, one of the main founders of cognitive development, defines the period between the 18th and 24th months as the mental combinations and problem solving phase. In the next six months, your child (you are aware that we are now calling him your child) will begin to act much smarter, his verbal communication with you will become stronger and he will gradually leave his infancy period behind. If you feed these periods with the right activities, you will make an important contribution to your child's cognitive development. For example, deriving different games from a toy increases planning skills and productivity. In the same way, supporting your child to play different games with simple materials will improve him cognitively and enable him to think in a versatile way. All these developmental features have been taken into account, as the activities we suggest are prepared to support your child's development in all areas.
My Mobility Increases
During these months, your child is now quite active. Many homes are dangerous places for very young children. Childhood accidents can reach the highest rates in the period of 10 to 24 months. As a result, many parents often have to say "no" to their children as they attempt to explore and test their motor skills. Sometimes, it is understandable that you act like this unintentionally, out of safety concerns or thinking that something will break at home. This is especially necessary if the issue is security related. However, experts insist on minimizing such constraints on natural dispositions to explore and test their motor skills. Therefore, it will be important to try to provide a "yes" environment in the "environment" you will prepare for your children. It is important to prepare this yes environment to remove the breakables for a while, protect the corners, and comply with the safety rules we have conveyed to you before.
Let the Parking Times Begin
We now recommend taking your child to the parks as often as possible. First of all, fresh air and going outside often will be good for your child. As he can meet new friends in the park, different equipment will create great opportunities especially for his physical development.
Experts state that preschoolers need active play twice at different times of the day. Parks help your child throw away the energy they need to spend during the day. Even if the weather prevents you from going out or using the park, set up active games at home. Remember to act; It is a fundamental principle for both cognitive and sensorimotor muscle development. Create space for your kids to move around. Studies have reported that regular physical activity reduces the depression and anxiety levels of people. For this reason, it is easier for children who regularly exercise and do sports to socialize, to increase their self-confidence and to establish friendships accordingly.
Eye Examination Time
Ophthalmologists generally recommend repeating the eye examination by an ophthalmologist at 18 months. In the meantime, it is recommended to consult an ophthalmologist, especially if you suspect abnormal situations such as sliding, blinking, squinting, rubbing in the eyes. Attention to the Vaccination Calendar! According to the childhood routine vaccination schedule of the Ministry of Health, when your child is completing 18 months, DaBT-IPA-HiB, namely diphtheria acellular pertussis, supplementary dose of Tetanus-inactive polio-hemophiluzinfluenza type B vaccine, the second OPA, oral polio vaccine (the first should have been given at 24 weeks) and Hepatitis A. The first vaccination is recommended.