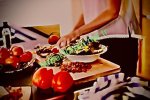 What Should Be Considered While Dieting?
At the beginning of the things that need to be known in order to make a healthy diet, it is necessary to know that it is necessary to get professional help. Otherwise, each person has to have a different body and a diet list that should be shaped accordingly. The studies carried out and taking the necessary steps unnecessarily and unconsciously cause not only negative results, but also health problems.
A woman who constantly wants to lose weight seems very enthusiastic and excited. She is very determined that she can achieve results by cutting all the food she eats directly on the first Monday. However, she soon succumbs to what she wants to eat and the feeling of hunger. This turns into a bigger diet problem. It will be very difficult and tiring to reach the deficiencies of the points that have been tried many times and however, and to solve this problem alone.
On the other hand, the search for the most popular diets on the internet causes great problems in the diets that are started. Diets that are uncertain what the results will be cause many people to experience troublesome processes. It means that the steps that are specific to certain people only, without knowing what they will cause, is also one of the issues that dieters should pay attention to.
What are the Requirements of Dieting?
People who need to diet are also those who need to be determined by specialist physicians. A disease such as obesity requires a different process before dieting. As long as small-scale studies are effective, there will be no harm.
The basic concept that should be known here is not by choosing the diet that gives you the most accurate results, but as the diets that are consciously shown. It has been revealed that the most complained diet models for a long time are actually applied incorrectly. Having a healthy diet will be the answer to all the question marks you may have.